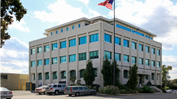 Welcome to Harvest Real Estate Services, Inc., a national property management firm specializing in commercial real estate with refined expertise in the New York tri-state area.
We provide brokerage services and full service management of commercial office, industrial and retail properties, and distressed real estate. Through affiliated companies, Timber Ridge Homes and The EPH Group, we develop residential communities and manage distressed properties for financial institutions.
Our office is located in Jericho, New York in the Penthouse of 131 Jericho Turnpike. The building, along with its sister building, 125 Jericho Turnpike, comprise two Long Island landmark properties that sit prominently at Exit 40W of the Long Island Expressway. If you are in the neighborhood, stop by and visit us and check out our Rock and Roll Tribute Wall.